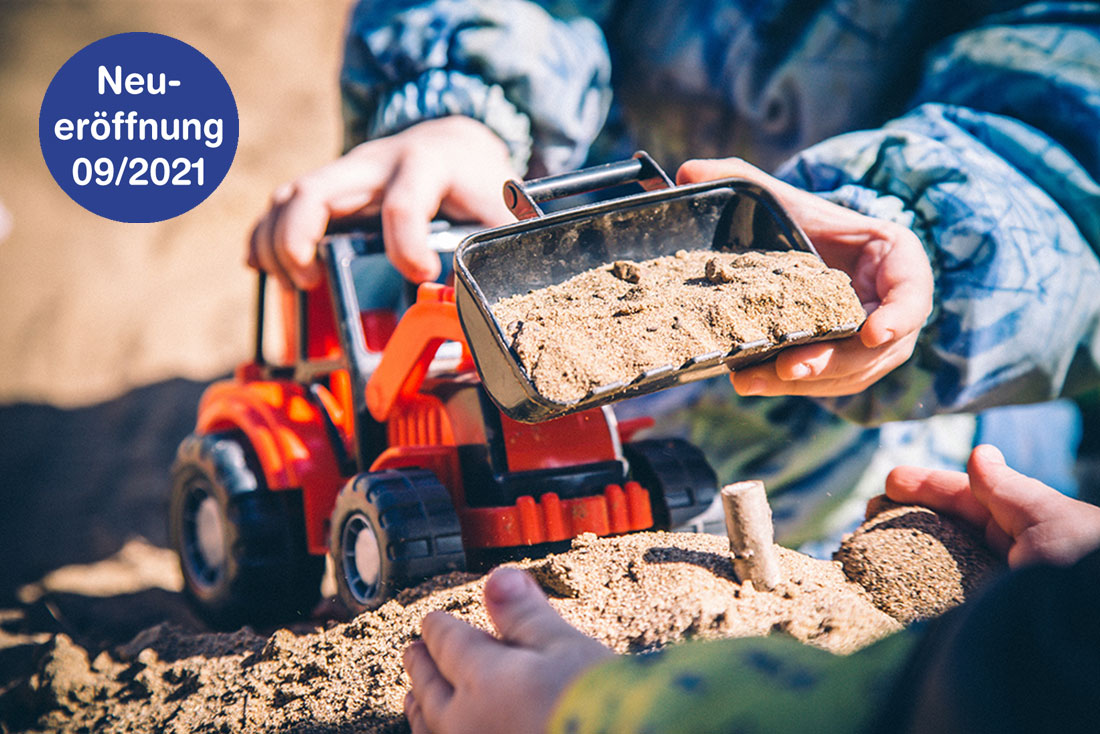 Our address
Am Bauhof 3a, 41564 Kaarst (09/2021-07/2022)
St. Eustachius Platz, 41564 Kaarst (from 08/2022)
Our opening hours
● Monday to Friday: 07:30-16:30
● Closing days on two weeks in summer, between Christmas and New Year, and on 4 other days.
Information evenings
14 October 2021, 5 pm
To register for an information evening at our daycare, please fill out our no-obligation place request form. You will then receive an email with further details.
Place request
If you are interested, please register here. Our Parents' Support Service will contact you as soon as possible.
Do you have any questions?
Our Parents' Support Service will be happy to help you.
mail: elternservice@villaluna.de
phone:   0211-7377770
From September 2021, Villa Luna will temporarily move into a modular facility at the Bauhof. The premises are bright, spacious and are complemented by a 612sqm outdoor area. Here is plenty of space to discover the world, to romp and play. The beautiful Vorster Forest is nearby and we are looking forward to exploring it with the children.
The English language is taught to the children at Villa Luna Kaarst by our own immersion specialist. This specialist speaks English exclusively with the children and their team colleagues, so that the children are immersed in a so-called language bath.
Loving care and support by a team with different educational backgrounds is just as important to us as a wholesome, healthy diet.
Finally, in the summer of 2022, the move to the final premises at St. Eustachius Platz in Kaarst's city center will take place. The modern new building offers space for three groups and up to 56 children.
Sufficient parking spaces are available at both facilities.
We look forward to welcoming your child to our bilingual facility soon!
The group forms
Until July 2022, we will care for up to 40 children aged three to six in two groups at Villa Luna Kaarst.
From August 2022, the final premises will accommodate the following groups:
● 1 group for children from 4 months to 3 years of age
● 1 group for children from 3 to 6 years old
● 1 group for children from 2 to 6 years of age.
Our daycare center:
● Bilingual care and support according to the immersion principle by at least one English-speaking specialist.
● A wide variety of educational offers and movement activities.
● Wholesome, fresh meals. Breakfast and snack prepared on site in our own kitchen.
More insights can be found here:

  Villa Luna Kaarst


  villaluna.kitas