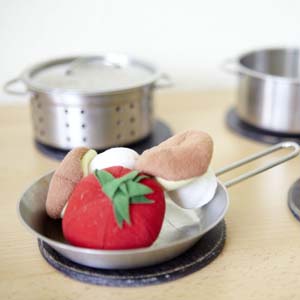 Exercise
Exercise plays a central role in development, especially in childhood: Children use movement to explore their personal and physical environment and they make it their own with their bodies and senses.
Movement is also an important way of communicating that enables them to express their feelings and converse with the people around them during their pre-linguistic phase.
Knowing this, we are committed to making everyday life as "active" as possible. The children have plenty of opportunities to move around a lot, both in the group and outside.
In addition, the children go to the gym several times a week. We provide opportunities for both structured and unstructured physical activity to let them play to their heart's content.
Healthy eating is for body, mind and soul
We serve fresh, regional products that are also fair trade and organic when possible to pass this message on to the children.
Teaching table manners and cutlery skills are just as close to our heart as treating food with respect. We have special days on which the children help us cook a yummy lunch of their choosing. We strive to serve traditional fruit and vegetable varieties that have fallen out of fashion. You are welcome to contribute fruit from grandma and grandpa's garden!