"The future lives in our children's minds. So, what on Earth could be more important?" mused the former manager and father of three Dr. Jürgen Reul and then opened a private kindergarten in Düsseldorf on 1 August 2005: the first Villa Luna.
Enthused by day-care centres abroad, Dr. Reul dedicated himself to offering children and parents in Germany high-quality childcare with flexible hours. Since 2005, Villa Luna has been giving children from 4 months to school age plenty of room to gather experiences and flourish. Highly qualified yet caring professionals working in small groups of children have a keen eye for their charges' special gifts as well as weaknesses – always led by the principle that "a good start lasts a lifetime!" As we all know, your first six years in life lay the groundwork for your personal development.
At Villa Luna our educational approach is very important to us. From the beginning, we have also strived to provide flexible childcare that takes the needs of modern society into account and paves the way to achieving work-life balance. Villa Luna has always set aside customised numbers of childcare slots for employees of certain companies. This has made our day-care centres attractive for both parents and businesses.
It did not take long for a growing number of satisfied parents and intrigued companies to express their enthusiasm. Villa Luna's concept was welcomed with open arms. Opening further locations the next logical thing to do:
2005 Grand opening in Aachen-Südviertel and Düsseldorf-Bilk
2008 Grand opening in Düsseldorf-Grafenberg
2009 Begin of the partnership and joint venture with Klett Group
2010 Grand opening in Frankfurt-Sachsenhausen
2011 Grand opening in Prague (Czech Republic)
2012 Grand opening in Düsseldorf-Südring and Hamburg-Winterhude
2013 Grand opening in Cologne-Neustadt-Süd and Hannover
2014 Grand opening in Berlin-Charlottenburg
2021 Grand opening in Aachen-Tuchmacherviertel, Kaarst-Vorst and Cologne-Raderthal
2022 Grand opening in Bochum
1. The Reul family
2. Minister Laschet at the opening of Villa Luna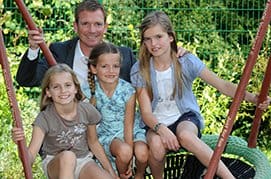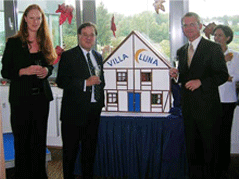 WHAT DO PARENTS AND CHILDREN NEED NOWADAYS?
We are committed to giving the children the exact kind of room for development they need at their age – and that in lovingly furnished premises and with highly qualified staff. We are also eager to introduce young children to our wide range of inspirational and educational approaches.
Villa Luna's unique childcare approach strives to help you achieve work-life balance by providing flexible childcare. Join us at our information sessions or open houses. Please also feel free to make an appointment for a personal interview at the day-care centre of your choice.
Our teachers look forward to talking to you. And we look forward to seeing you there! Your Villa Luna team
COMPANY-SPONSORED CHILDCARE – GOOD REASONS TO GET INVOLVED
There are several good reasons for implementing family-oriented HR policies, including the growing shortage of specialised staff, increased competition for the remaining skilled employees and wanting to encourage woman in your company.
Creating a work-life balance has been at the heart of our approach since we first founded the Villa Luna day-care centres. We are dedicated to providing a realistic solution tailored to families, especially for families with two working parents. The quality and flexibility of our childcare are the most important prerequisites for this.
Villa Luna offers companies tailored and attractively priced solutions for achieving work-life balance for their staff. Studies show: Companies that support their staff's childcare needs reap the benefits!*
Find out more