VILLA LUNA DAY-CARE CENTRES: MORE THAN ENOUGH ROOM FOR CHILDREN AND PARENTS TO FEEL AT HOME
Inside our tastefully furnished premises, children will find an entire world waiting where their personalities and knowledge will blossom and flourish. Our grounds outside have various areas, where children can play, explore and experiment – or just blow off steam…
Teachers with a wide range of interests and expertise make up our teams. As a result, we are able to guarantee a high educational standard in the fields of music, science, sport and creative activities. No need to find extracurricular learning activities for your children – when kindergarten is out, you are free to spend quality family time together.
Our childcare service and our high quality standards make us ideal partners for working parents. And our flexible childcare system means that we can offer you a realistic way of achieving a work-life balance for you and your family.it von Familie und Beruf.
SOCIAL SKILLS: LEARNING HOW TO GET ALONG
By simply being at kindergarten, your children are in a social setting where they will learn from and with one another. In our day-care centres, children make their own social connections and friends. Children learn to interact in a group and resolve conflicts. They face the challenge of finding their way around a group, of dealing with others, asserting themselves, but also living with compromise.
They discover strengths and weaknesses that they and others may have and learn to accept them. Part of personal development is getting to know your limits as well as your potential. The children get involved with helping us set down rules and boundaries that provide a framework and the necessary security for living in a social environment.
Our daily routine and activities are determined mainly by the children's needs, experiences, desires and what has transpired during the day. We want them to get involved in decision-making and learning processes, which is why we encourage their participation through regular group discussions. We are also dedicated to keeping them inspired and motivated with method-based stimuli..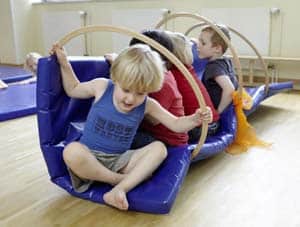 Children use movement to explore their personal and physical environment and they make it their own by way of their bodies and senses. Movement is also an important way of communicating that enables them to express their feelings and converse with the people around them during their pre-linguistic phase.
Knowing this, we are committed to making everyday life as "active" as possible. Both in our outside play areas well as in the gyms, the children can enjoy both structured and unstructured physical activity and play to their heart's content. Healthy eating is for mind, body and soul. We serve fresh and regional foods to pass this message on to the children.
Table manners and cutlery skills are as close to our heart as teaching them to treat food with respect. Your children love occasionally helping us cook yummy meals together.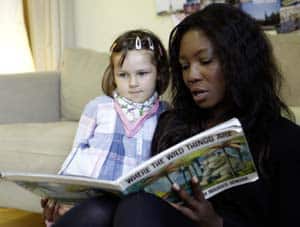 At Villa Luna, we teach English according to the immersion principle. The children learn it playfully and without pressure as a part of their everyday life, just as in first-language acquisition. Bilingualism gives the children strong linguistic skills.
Native speakers and bilingual staff speak only English to the children in their groups. These staff members teach the children their language, as well as a cultural awareness for their home countries, nourishing the children's open-mindedness and tolerance.
Teaching bilingualism means that each group has its own native speaker.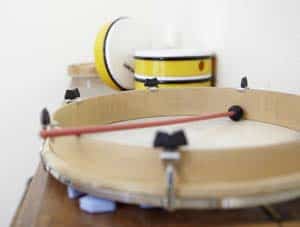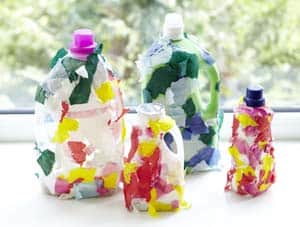 Children can communicate how they think, feel and make sense of what they see in the world by using music and art. Their innermost workings are transformed into shapes, colours and sounds.
Our specialised teachers support the children in expressing their world by providing them with appealing art materials. They also introduce them to new, previously unknown ways of expressing themselves.
Art
Children express their ideas, feelings and thoughts when engaging with various materials, such as paint, glue, sand, paper, cardboard or soap stone. They often paint what they have experienced or develop their body perception by drawing their hand, for example, or letting the paint run through their fingers.
In our Villa Luna day-care centres, children are free to get creative on the floor, at an easel, on a table, lying or sitting down. We provide a broad, yet individual range of approaches for developing your children's powers of perception and expression.
Music
Learning about music at an early age has a lasting effect. Music encourages the development of children's intelligence and brain capacities, as well as their musical, social and communicative skills.
Rhythm and music link body, mind and soul. The children at Villa Luna day-care centres have a wealth of forms of expression at their disposal, from their own bodies to various instruments.
Our specialised teachers provide the children with a wide range of instruments and songs in English and German for them to join in with. Listening to music lets children consciously experience many different things: loud and quiet rattling or drumming, high and low sounds, songs to sing, hum, clap or dance to.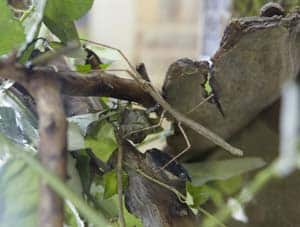 Children explore their surroundings on their own by looking at objects, touching them, mouthing them, listening to them and smelling them. We want our children to stay interested in exploring the world, so our teachers discuss the children's sensory perceptions, ask questions and look for answers together with the children.
Experiments can also be set up for the children to try their hand at. These physics or chemistry experiments are grounded in the children's experiences, such as making coloured play dough. In the outside grounds of our day-care centre and the neighbourhood, there are plenty of animals and plants to discover.
The children become familiar with the four elements, earth, wind, fire and water in their everyday routines and they can observe them and try things out. What floats and what sinks? What happens when you light a birthday candle, and what happens when you blow it out?
Parents are the experts when it comes to their children. We appreciate parents very much and are committed to inspiring trust in them for what we do. We want to know about your family values, priorities and life style so that we can factor them into our work.
Combining parental expertise with the skills of our employees means that we can create the best possible learning environment for your children. Villa Luna provides parents with information, advice, ideas as well as an ongoing dialogue about your child's well-being.