Creating a work-life balance has been at the heart of our approach since we first founded the Villa Luna day-care centres. We are dedicated to providing a realistic solution tailored to families, especially for families with two working parents. Key factors of our service are the quality and flexibility of the childcare we offer.
There are several good reasons for implementing family-oriented HR policies, including the growing shortage of specialised staff, increased competition for the remaining skilled employees and wanting to encourage woman in your company.
Studies show: Companies that support their staff's childcare needs reap the benefits!*
Villa Luna offers companies tailored and attractively priced solutions for achieving work-life balance for their staff. We use customise the collaboration to find just the right childcare model for the needs of your company – to ensure flexible childcare tailored to families.
Find out more about our services for companies and types of collaboration.
We look forward to hearing from you!
Your benefits in a nutshell:
Increased employer attractiveness:
Increased employee loyalty, resulting in lower staff turnover and reduced loss of expertise
Competitive edge when recruiting skilled staff
Improved corporate image: Attractiveness through sustainability
Increased staff satisfaction:
Improved performance and productivity
A more positive atmosphere at work and higher levels of commitment
Increased identification with the company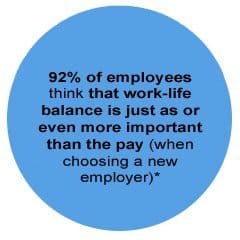 *Source: German Federal Ministry for the Family, Pensioners, Women and Young People: A family-oriented approach as a factor in success for the recruitment and retention of skilled employees (2008)
Financial factors and benefits:
Reduced costs for parental leave (temporary substitutes, reintegration)
Reduced costs due to lower staff turnover (new hires, training on the job, etc.)
Reduced costs thanks to fewer absences for family reasons
Tax incentives for employers and employees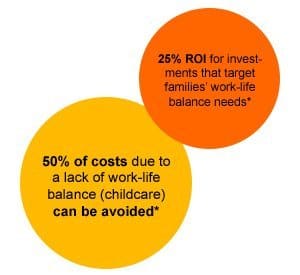 *(Studie der Prognos AG, 2002);  **(Studie von Emnid, 2002)