OUR DEDICATION TO QUALITY
Quality and professional expertise come first at Villa Luna.
Villa Luna is all about children and they inspire us to strive for and implement a high quality standard. We never stop monitoring the quality of our educational work and services because we want children and parents to feel at home at our day-care centres and be assured that we are the best around when it comes to caring for children's hearts, bodies and minds. Quality control instruments and structures are an integral part of Villa Luna's HR and quality development systems.
What makes Villa Luna day-care centres the right choice
Tailored to families: Flexible childcare system to help parents achieve a work-life balance
Early exposure to foreign languages, music, art, science, physical education and nutrition
Small groups
Highly qualified specialist staff
Focus on training basic skills (see also Philosophy and teaching)
Preschool preparation: motor and social skills, perception and concentration
Highly motivated staff from various teaching backgrounds (kindergarten teachers, Education or Social Work degrees, special needs teachers, childcare assistants) with additional qualifications
Special meetings with parents to discuss the children's development and performance
Regularly scheduled events for parents to inform them about current or noteworthy educational / childcare issues
Flexible substitute teachers to make sure there are enough teachers even during the holidays or periods of illness
The different skill-sets and qualifications of Villa Luna employees means that staff learn from each other
Involvement of external experts from various specialist areas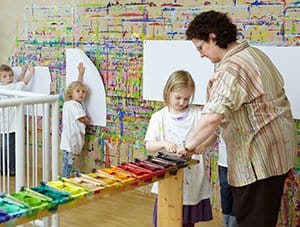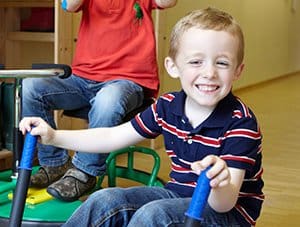 VILLA LUNA QUALITY GUARANTEES
Guarantee No. 1: 
We are committed to creating strong attachments to and dependable relationships with the children. This forms the basis for their development and education.
Guarantee No. 2:
We make sure to keep a close eye on your children and document their development. We use this documentation as a basis for our individual developmental and educational support.
Guarantee No. 3: 
At Villa Luna, a child's home environment and lived experiences are the basis of all teaching processes.
Guarantee No. 4:
We use the immersion principle to lay the groundwork for successful foreign language acquisition (English).
Educational partnership: Education is a task and responsibility shared by parents and teachers. Parents are experts on their own children.
Guarantee No.  6: 
Encouraging health and well-being: Our Villa Luna day-care centres adhere to the guidelines formulated by the WHO for optimal health promotion: "Enabling people to take care of their own well-being and promoting healthy living conditions."
Guarantee No. 7:
Well trained, qualified, committed and motivated staff are the basis for implementing our Villa Luna approach and quality guarantees.
Guarantee No. 8:
Structured communication with clearly assigned responsibilities helps realise our approach and quality guarantees.